Dymanic Digital Signage for Transportation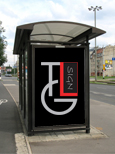 The digital signage system is perfect for public transportation. The bulk of advertisements used in public transportation are done in printed pieces, of which a great deal are back-light print (which can run up to $20 a square foot). On a transit line, the person viewing the advertisements doesn't have the option of turning the channel, setting TiVo to skip them or blocking ads with a web browser. This means the message will get delivered.
This market is only 1% (nearly $1 billion) of the U.S. advertising budget, which gives it a huge potential for growth.
In addition, transit increasingly uses new media and technologies that may offer additional opportunities for advertisers. Sale of advertisement in public transit facilities and vehicles is a nearly $1 billion industry generating approximately $500 million annually to transit agencies. Yet transit advertising revenue was less than one-half of 1% of total U.S. advertising expenditures in 2003.