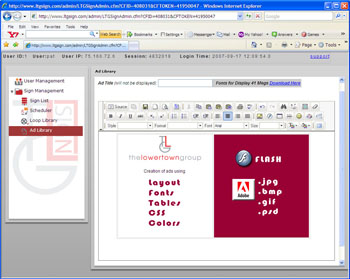 Ads are created using an easy-to-use, robust WYSIWYG editor. They can also be uploaded as flash files.

Ads that are created using the LTGSign tools can contain:

Text (fonts can be added to the system and signs)

Photos and Graphics

Flash Animations

Live Data (RSS FEEDS, NEWS AND STOCK TICKERS)

Pre-created Templates


Layout items (i.e. tables, bullets, indents and others) can be programmed using html.



Full Flash Ad Upload: This option is for professional designers who do not want to be hindered by any limitations. They can be designed using any of their favorite applications and uploaded as a Media Rich swf file.

Editing an ad that is in use will prompt a global update of all signage that is using that ad in their loops. In this way, making minor updates is extremely easy without having to create new loops or schedules.