Digital Signage for the Real Estate Industry
The real estate industry is a main target of LTGSign because of both shifting advertising trends and of our great deal of experience working with real estate clients.
The real estate industry as a whole has many avenues for the use of direct digital signage (DDS), including: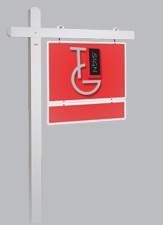 Condo Sales Centers. When an agent is trying to convey the best possible look into a home for the client and the building hasn't been built yet, the dynamic interactive signage system can show the space in a floor plan, give a look at the view, take them on a virtual tour and introduce potential buyers to their neighbors and neighborhood.
A condo can be long past the sales life and still have usage for DDS for association informational systems and advertising. Delivering snow plow, pool cleaning and all sorts of information to the residents can be an essential part of the association's duties that can be met by the DDS system.
Model Homes. The model home digital sign solution is a great investment for a developer that may have many styles and floor plans that they could not possibly show in a physical home. A home's selections, colors, textures and many other options need to go into the home building process, but they're not all going to be physically available for a buyer to see. The DDS system solves this problem.
Existing Home Sales. These rely heavily on open houses and showing the property to prospective buyers. However, an agent may have many homes that they represent and can only be at one at a time, which is where a good digital signage message will come in very handy. Digital signage can present the neighborhood to a buyer as well as presenting information to many people at once. The signage is also a great investment that a real estate company can make for their sales office or other public spaces.
Rental Properties. Here, the system can display tenant information and advertise in a neighborhood. The DDS system may also provide information on units available so the tenants may pass on the information or their guests may see it.
The same applies to industrial rental properties and offices, where a DDS system also works great as a building directory.