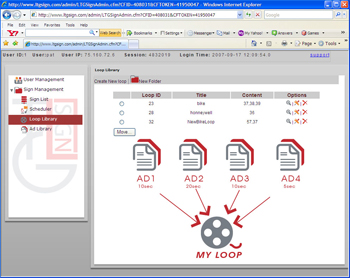 The loop library is where the user creates a sequence of ads. The user, after choosing to create a new loop, can then select how many ads they would like to be in that loop, can assign the duration of each ad, and can select the order they will be displayed.
A loop can consist of both WYSIWYG ads created in the system as well as ads that have been uploaded into the system.
A user can re-arrange and add ads to a loop or remove ads from a loop at anytime. When a loop is edited it prompts a global update of all signage that is displaying that specific loop.